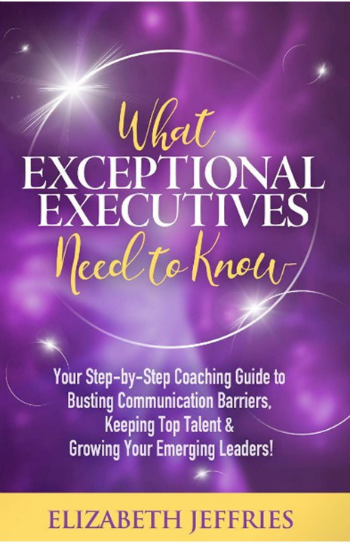 What Exceptional Executives Need to Know
is packed with tips, checklists, resources, and real stories, making this the most valuable one-stop tool available for building your role as a coach to your team members.  Your tool kit provides you with:
The five-step process for coaching a team member, what to way, what tools to use, and how to evaluate success
The true meaning and noticeable behavior of a leader as a servant and coach
Five core skills for producing extraordinary results
Behavior-changing questions and when to use them
The one skill that will anchor your learning and assure your success as a coach leader
Here's what others have said about the book:
Elizabeth Jeffries is a Hall of Fame speaker and a highly sought after executive coach because of her experience, enthusiasm and dedication to her clients.  If you're looking to get the most out of your team members, What Exceptional Executives Need to Know is a must-read.  You'll not only find step-by-step procedures on how to get results, but through her real-life executive development encounters you'll see and feel how you can recreate her magic with your own team members.
—Peter J. Adamo
President/CEO, Waterbury Hospital
Elizabeth Jeffries has written a phenomenal personal and professional step-by-step coaching guide. Her superb, dynamic process unleashes hidden talents, personal fulfillment and produces extraordinary results. Read this book and learn how to reach your professional goals and assist your high potential leaders in soaring to new heights!
– Nancy Susick, MSN, RN, FACHE
President, Beaumont Hospital, Troy
In What Exceptional Executives Need to Know, Elizabeth Jeffries teaches you how to apply her powerful Executive Mastery Coaching Process™. Her approach will bring about amazing outcomes for each team member. With stories and examples from her extensive experience as an executive leadership coach, you'll learn how to bust through communication barriers by speaking the truth in love, holding yourself and your team members accountable, asking on-target questions to get clear outcomes, and much more. This book will refresh you and compel you to practice what you are learning to become a more exceptional leader.
– Seth Landefeld, MD
Chair, Department of Medicine
Spencer Chair in Medical Science Leadership
University of Alabama, Birmingham
What Exceptional Executives Need to Know is a must-read for any CEO or leader trying to move their organization to the next level. Elizabeth takes you inside her over 20 successful years of executive coaching and gives real life examples of amazing achievements after goals and expectations are properly set and teams are aligned for success. Her Executive Mastery Coaching ProcessTM can exponentially increase your own effectiveness and quickly help you achieve your full potential. I would highly suggest this book for anyone who feels like they need a jumpstart to move their team members to the next level.
—Tom Knox
CEO, SeniorCorp 
Elizabeth Jeffries has created an excellent roadmap in this book for leaders to help them coach their team, to bring out the very best in each person resulting in performance excellence. This well-written book provides you with the principles of coaching and how to put on the "Coach's Crown" and use the 5 Cs of communicating to lead and develop dynamic, thought-provoking discussions. You'll learn what it means to speak the "truth in love" and why you must get to the "I wanna" in order for coaching to be effective. If you are looking for a resource on how to coach your team members to greatness, you owe it to yourself to read this book!
– Lisa Morley
Vice President - Human Resources, First Savings Bank 
Elizabeth Jeffries has been uncovering and igniting the passions and talents of leaders for many years. In this book, she shares her "secret sauce" through inspirational stories that help illustrate how we can help ourselves and other leaders master their gifts – heart, mind, and soul. If you are looking for a proven method and holistic approach to coach leaders on your team and in your organization, What Exceptional Executives Need to Know is a must-read.
– Dr. Jean Ann Larson, FACHE, LFHIMSS, FIISE, DSHS
Leadership Development Officer, University of Alabama at Birmingham – Health System and School of Medicine
Effective leaders need to master the skill of coaching to lead their teams to unbridled success. Elizabeth Jeffries is a master at this process! Her five steps outlined in her Executive Mastery Coaching ProcessTM provide a systematic framework to address any coaching opportunity for any team member in the organization. What Exceptional Executives Need to Know provides insights into understanding ourselves and how to improve the value of the connection we make with others. Elizabeth is a gift to leaders and once again, has selflessly shared her knowledge for all of us to benefit.
—Val Gokenbach, DM, RN, MBA
Vice President/Chief Nursing Officer, Baylor All Saints Hospital
What Exceptional Executives Need to Know is a clear, concise blueprint on how to be a coach to your team members. Elizabeth has put in writing what she so effectively has practiced during her career as an exceptional and sought after executive leadership coach. Through our work with Elizabeth, my team and I have gained a much greater understanding and appreciation for the critically important role of coaching team members.  Her book is a refreshing read and an invaluable tool for new and experienced executives.
—Judy Lambeth
President/CEO, Maryhurst, Inc.
There is no better way to impart critical wisdom about leadership development than through Elizabeth Jeffries' book, What Exceptional Executives Need to Know. Elizabeth does a masterful job walking readers through how to enable their team to achieve exceptional outcomes. The structure, examples, and Call to Action make this mandatory for any executive's library. However, readers who want to get the most from the book will be best served to read it with a highlighter, post-it flags, and a pen to take notes in the margin and immediately apply the lessons.
—Dave Bonnstetter
CEO, TTI Success Insights